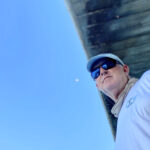 I was honored to be featured in a recent video by Florida Keys Lifestyle called "God Made a Small Business Owner." The video, created by local Islamorada realtor Claire Johnson, truly captures the essence of the passion, dedication and self-reliance it takes to be Florida Keys small business owner. As an Islamorada fishing guide, I feel I can speak for the Keys small business community that we are no strangers to challenge. We endure the ups and down of tourism trends and stand united and strong to weather each and every storm that comes our way. We support each other no matter what.
The global pandemic of Covid-19 has forced authorities to shut off our island chain from visitors from the mainlaind, cutting the lifeblood of our economy. But we all realize this drastic measure is also what is keeping us safe. It is times like this that our Florida Keys small business community really shines. We remain humble, focused and open-minded and above all trusting that after all it was "God who made the small business owner!"
Want to learn more about some of the other Islamorada small businesses featured in the video? Check them out in the list below:
If you are looking to purchase real estate in Islamorada, Claire Johnson should be your first call. You can reach her at 305-731-4602.