Florida Bay Fall Fishing Report
As seen in the Florida Bay Forever Newsletter Oct 2023
By Commodore Ted Wilson, Florida Keys Fishing Guides Association

Finally Fall. The unprecedented summer heat that sent Florida Bay water temperatures to new heights has finally come back down to Earth. Northerly winds are blowing the energy sucking humidity south and heavy rains have freshened things up throughout Everglades National Park. One might say the weather is pretty darn nice this time of year, and luckily for us, the fish are responding positively to it.
Autumn marks the best snook fishing of the year. Heavy rains push baitfish and snook out of the creeks and crannies of the Everglades proper and into Florida Bay where we can get to them more easily. The fall equinox also brings the highest tides of the year making shoreline deadfall and mainland beaches some of the most reliable snook spots on the planet. Mangrove islands and the motes circling them also provide great snook habitat, however, beware of the sharks. Sharks have become a huge problem in popular snook spots throughout Florida Bay, taking bites out of hooked snook before anglers can get them to the boat. If you encounter sharks (mostly lemon sharks) you must take the high road and quit fishing in that area. As hard as it is to leave a productive spot, if we continue to teach the local sharks that fishermen equal food, we are part of the problem.
Good news on the redfish front: for the first time since the "Great Post Hurricane Irma Redfish Bumper Crop of 2017" (I made that up), we are seeing large numbers of juvenile redfish in Florida Bay. Redfish spawn in September and grow approximately an inch a month during their first year. The fish we have been seeing lately are last year's crop and are 12"-14" long. Until now they were a little too small to take typical baits and artificials that we usually use to catch them, but now they're just big enough to get their mouth around them. This is such good news because this most likely means we will continue to have excellent red fishing for the next few years until they mature. After they "grow up" they move out of Florida Bay and spend most of their time in the open Gulf where we don't cross paths with them as much. When you find one juvenile red, you'll usually find a bunch of them. Scale down your bait size, mash down the barbs on your jig heads and have fun with those little guys but be nice. Remember, if you handle them with care, they'll be slot size fish next year.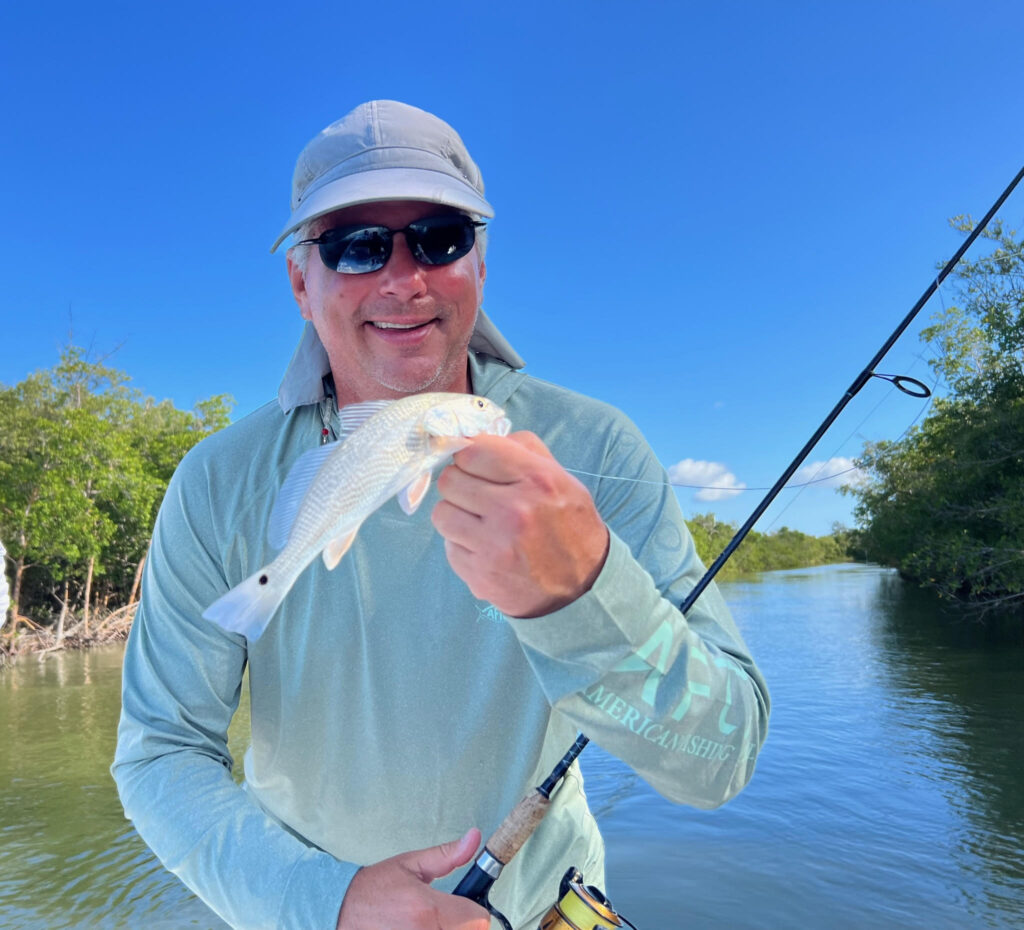 Fall in Florida Bay is notorious for the "mullet run." Black and silver mullet push down from the North to dine on the endless decaying vegetation in the mud and silt along the Bay's bottom. When the mullet school up and feed, they leave huge "muds" up to a mile long/wide in the areas where they have been feeding. As the mullet root around in the silt hunting for goodies, they inevitably "goose" inhabitants of the mud like shrimp, small ground fish and crabs temporarily out of their hiding places. Gamefish such as spotted seatrout, ladyfish, jacks, snapper and pompano have figured out that if they just follow these schools of mullet around, they'll reap the rewards of their hard work and feed on the displaced baitfish and crustaceans. Bouncing jigs and shrimp on the bottom while drifting through these muds is always good for a variety of bites. Some like to suspend their offering under a popping cork a foot or so off the bottom to give a little added "pop". In addition, some gamefish such as tarpon, sharks, sawfish and big jacks prefer to go to the source and feed on the mullet themselves. One of the most exciting things you'll ever see is a hundred-pound tarpon cartwheeling through a school of mullet as it tries to get a snack. Sometimes the mullet are so thick it's hard to get your bait noticed and getting bites from the big fish seems futile. Stick with it, they usually come around. If not, just watching "the show" of marauding gamefish going berserk while taking advantage of this once-a-year phenomenon is sometimes just as much fun as catching them.